Posted on
By Isabel Greverath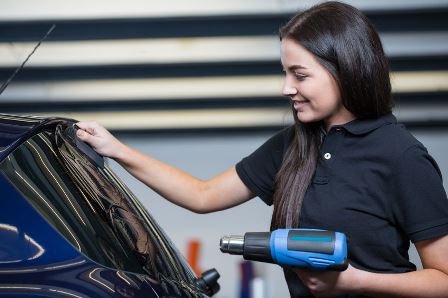 Removing a sticker is a tedious and time consuming work. However, with the right knowledge and resources available you will get quick results. Have a look on Dr. Stickers advices for easy removal of stickers.
Removing your stickers
Forget the well-intentioned household tips from your grandmother, like removing a sticker with peanut butter or orange peel. Unfortunately it seems to be nonsense. The longer the sticker sticks to the surface, the more difficult it will be to remove it. There are a lot of variables which influence the result. Beside the sticker, the type of surface plays a big role in this procedure. Find here some tools for removing stickers and adhesive residues.


Removing stickers using a hair dryer or heat gun
Using the heat from a hair dryer or a heat gun can be used to remove labels and other stickers from any surface. Heat up the adhesive until it will be soft again. Then you will be able to slowly peel the sticker off. Please pay attention not to use extreme heat for certain surfaces. Otherwise coatings and shields for example can easily be damaged.


Sticker removal with a steam cleaner
Steam is one of the fastest and most effective method for easily and safely removing stickers and vinyl graphics. Especially for bigger areas a steam cleaner will be an important tool. It ensures that the whole surface will be once at the right temperature. This allows you to remove the whole sticker in one time. Even the retro reflective film shows effect. This hard and rigid film has to be heated until you will be able to remove it very carefully as flat as possible (i.e. in a angle of 30 degrees to the surface).


Adhesive remover
There is also an option available using a adhesive remover. Adhesive remover is ideal for removing stickers or adhesive residue without heating the surface. For large areas, such as a car wrap or glass etched foils, which are difficult to take off, it will be a convenient solution to save time and money. Have a look on the video to see how easy it is. Always check the instructions for the right usage. Here you will find a short resume:
Do not wait longer than 30 minutes to start removing
Spread the liquid equally on the surface
Protect surfaces / edges without stickers
Not suitable for very thick type of films
Printed & laminated graphics has to be treated in two steps. You start removing the lamination before you will take of the vinyl graphic
https://www.youtube.com/watch?v=mlNqlxu4H7s rel="nofollow"
Remove adhesive residuals with adhesive remover
There are a lot of different types of adhesive removers available. For the best result you can better look for a professional product, which is designed for this very purpose. Altogether it will save you a lot of time and money. Cleaning a surface from simple residuals can be done with a surface cleaner. This product can also be used to prepare the surface for new stickers. If you find a surface with hard and rigid residual you can better chose the adhesive remover. Here you will find some more information about these products.