Durastipe Mean Lean Floor Marking Tape
Floor marking Mean Lean is the best solution for new or repaired floors where light work is performed (no to little heavy equipment and forklifts). This floor marking has a smooth surface and is easy to clean. Mean Lean floor marking is the thinnest variant of our durastripe products. Excellent for light pallet traffic and manual transport. The tape is thinner, so less susceptible to damage by sliding. If you have heavier forklift traffic or there is a lot of turning on the floor lines, choose the Durastripe X-treme
Available in different colours. All our products are custom made or cut to size, so you cannot return products ordered from Dr. Sticker.
Characteristics:
Suitable for warehouses, warehouse floors, commercial spaces with light work traffic
Easy to clean due to special coating on the tape
Tape is thinner, so less prone to sliding pallets
Long lifespan
Easily removable
Lines won't fade or smudge
Benefits of marketing tape versus paint
Save on costs, time and inconvenience by using floor marking tape. Benefits include
No odor or noxious fumes
Work can be continued during tape mounting. Paint is stuck with drying time
Removable in the event of a move or change in workspace
Can be used both temporarily and permanently
Applying the floor marking
Clean the surface. Smooth floors suffice broom clean. We recommend a degreaser (without chlorine or citrus) for older/polluted floors. Also remove any old tape or paint residues well

Wait 30 minutes after cleaning

Align and remove backing tape, press one by one.

You can easily cut through the end of the line with a stanly knife

Corners can be glued together with overlap, cut it exactly in the corner and then remove the excess tape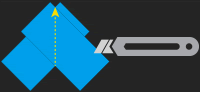 After application, press the line well with a roller, flat wheel or drive over it with the forklift truck
Repeat the previous steps as necessary
Assembly service
Within Dr.Sticker we also have an assembly service available. Feel free to mail your request to [email protected] with your wishes.
custom questions
Do you wish other shapes or texts in the lines. This is possible, please contact us about this